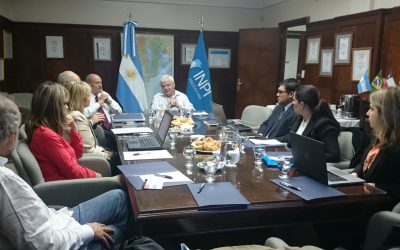 Heads of industrial property offices of South American countries gathered around a common project: PROSUR met in Buenos Aires
The heads of the IP offices of Argentina, Brazil, Chile, Colombia, Ecuador, Paraguay, Peru and Uruguay, discussed the progress made on cooperation and regional integration.
On 5 and 6 November 2015, they met in Buenos Aires, Argentina, to evaluate results and defining priorities. With regards to patent co-operation, the e-PEC was one of the main issues addressed, and in relation to trademark cooperation, the regional application form was one of the highlights of the discussions. Information in the public domain, as well as the strategic planning of PROSUR was also discussed by the Committee.
The countries were represented by Mario Aramburu (Argentina); Luiz Otávio Pimentel (Brazil); Maximiliano Santa Cruz (Chile); Cecilia Nieto (Colombia); Andrés Tinajero (Ecuador); Herbert Tassano (Peru); and Marianela Delor (Uruguay). Also participating were the Technical Secretary, Iloana Rocha, the Technological Coordinators, João Gilberto Sampaio and Pablo Migliaro, and the General Coordinator, Andrea Barrios.
PROSUR emerged a couple of years ago with the objective of promoting the use of the industrial property system as a strategic tool to promote innovation, competitiveness and entrepreneurship, favoring innovators, the scientific community, business, SMEs and universities in the region.
Because of its linkage with trade, intellectual property has a strong international component. Many of the IP standards of protection as well as the characteristics of the registration process are negotiated at the multilateral level. In this context, having strong regional ties, such as those within PROSUR members, strengthens the work carried out by each office.