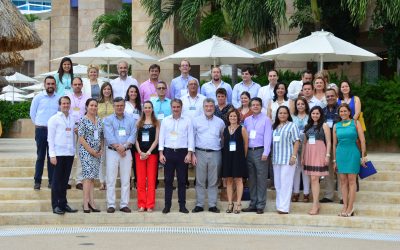 PROSUR initiates the implementation of the agreement that will allow applicants an Accelerated Patent Procedure (PPH)
The initiative includes the Industrial Property offices of Argentina, Brazil, Chile, Colombia, Ecuador, Paraguay, Peru and Uruguay.
Through a joint statement made in Santa Marta, Colombia, the implementation of the Accelerated Patent Procedure (PPH) Pilot Program in its Mottainai and PCT modalities was launched. The agreement was reached by representatives of Argentina, Chile, Brazil, Colombia, Ecuador, Paraguay, Peru and Uruguay.
This program, known as PPH (Patent Prosecution Highway), will allow applicants who have obtained a favorable patentability report to benefit from the work done in each country and request that it is taken into account by the other National Industrial Property of the countries involved as Post-Review Offices.
One of the highlights of the agreement will be the possibility to use the international PCT work developed by the INPI of Brazil and INAPI of Chile, as ISA / IPEA administrations, to benefit from the accelerated patent examination process in a given PROSUR country.
The major advantage of this program is that it will speed up the Office's patentability examination process and reduce associated costs by avoiding duplicate administrative actions, patent searches and patent examinations by each Office.
By participating in the Accelerated Patent Procedure, domestic applicants that have a favorable report may accelerate the processing times of their patent applications or utility models in a PROSUR member country, which will reduce the associated costs.
The implementation will be carried out in accordance with the guidelines prepared by each Industrial Property Offices, which establish the requirements, conditions and procedures to participate in the PPH Pilot Program. The Program will be tested during a period of three years, and may be extended by an additional one. Subsequently, the results and their demand for the final implementation will be evaluated. Brazil and Ecuador will implement PPH once they have obtained the competent internal authorization.
This statement strengthens the joint cooperation and development commitments between the National Offices, with the aim of promoting the use of the industrial property system as a strategic tool to encourage innovation, competitiveness and entrepreneurship, favoring innovators, scientific community, business, SMEs and universities in Latin America.
As of September 16, 2016, the guidelines that give effect to the Accelerated Patent Procedure Pilot Program (PPH) will be available at the respective Industrial Property Offices along with the necessary tools for their use.